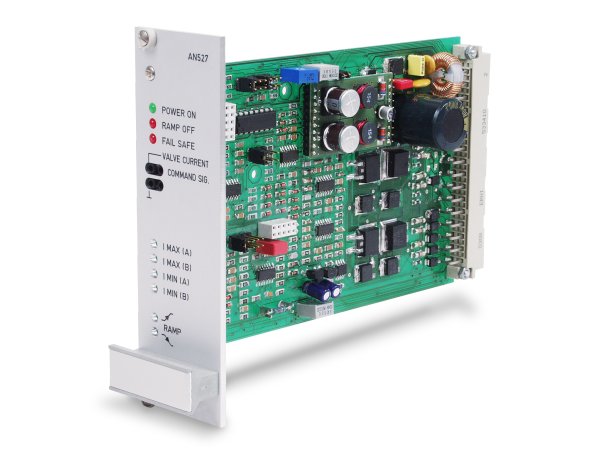 Compatible with Denison:
701-00153-8
701-00154-8
701-00156-8
701-00157-8
AN527 / AN227
Servo Amplifier
The AN527 servo amplifier has been designed for controlled proportional-stroke valves with two magnet coils. The AN527 is only used to control proportional valves.
Therefore, as this board is not only an amplifier for controlled valves (AN527) but also the basis for the closed-loop controller (AN528) it is not completely packed, and some different adjustment possibilities are not described, if it's used as the AN527.
Features:
Secured against wrong polarity
Secure of short-circuit
External switch-off ramp
Ramp with quadrant identification
Wide range of ramp adjustment
External enable (no-load current circuit)
Test jack for: command signal, valve current
Same potential of: minus of the supply voltage, zero-potential of the inputs, zero-potential of the reference voltage
PWM - output stages (high dynamic)
4 different inputs for the most popular input-voltages and -currents, allows very flexible input switching
LED indication for: Power on, Ramp off, Fail-safe
Potentiometer for: Ramp time, Zero overlapping, Gain
The pin assignments and functions of the AN527 are compatible with the AN227.
Ask here for information about: AN527 / AN227