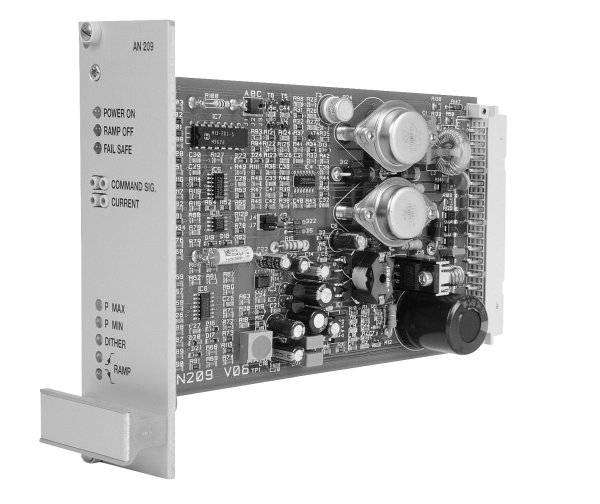 Compatible with Denison:
701-00030-8
AN209
Servo Amplifier
The AN209 servo amplifier has been designed to control single-magnet proportional valves and throttle-valves.
The module is provided with various setpoint inputs: 4-20mA, 0-20mA, 0-5V, 0-10V, user selectable 10k /V An external enable input allows to lock the amplifier.
The ramp gradients can be set separately for rise and fall.
Features:
protection against wrong polarity
short-circuit proof
external ramp switch-off
external stop
measurement sockets for setpoint and valve current
the negative of the power supply is at the same potential as the input zero voltages. This allows several servo amplifiers to be operated from a common power supply.
excellent dynamics due to use of fast output stage
wide range of adjustment for ramps
5 different setpoint inputs giving great flexibility of input circuit
pulse width modulation
plug-selectable dither frequency
Ask here for information about: AN209